Improving Your Judgement - Doubles
Four Thursday Evenings, July 13, through August 10, 2017, 7:00 p.m. (skip July 27)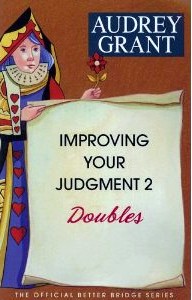 Of course you can double the opponent's contract for penalty, but the "double" call is much more useful in its "takeout" form to find a profitable contract for our side.
As a newer social and club player, you are probably not using the "double" call to your maximum advantage.
In this class, we'll have excellent example hands and study the details of the takeout double from the perspective of the doubler and their partner. We'll see takeout doubles, responder's (negative) doubles, and examine how to use cue bids and other bids to advance the auction. We'll fine tune our ear to distinguish a penalty double from a takeout.
Finally we'll see other situations where experienced players use the double to convey information.
This class demonstrates Audrey Grant's mastery of multi-level instruction in which every topic is easily approachable and understandable by novice bridge players, but there are juicy tidbits that will improve the game of very experienced players as well.
Lesson Plan:
The Takeout Double
Advancing (Responding to) a Takeout Double
Doubler's Rebid and the Subsequent Auction
Balancing and Other Doubles
Every class includes fascinating play and defense exercises that will improve your game at all levels.
Book included! The class fee includes a copy of the acclaimed book Improving Your Judgement 2 - Doubles by Audrey Grant
Class fee $75. Pay in cash or PayPal Me
Class size strictly limited! Reservations recommended
Class will meet at 7:00 p.m.
The Forum Room
Oneonta Congregational Church
1515 Garfield Avenue
South Pasadena CA 91030