Two Over One Game Force
Four Thursday Evenings, June 15 through July 6, 2017, 7:00 p.m.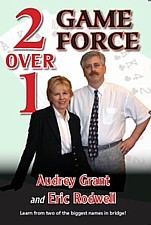 "Two Over One Game Force" is the modern variation on Standard American bidding most favored by expert bridge players (including me!) commonly abbreviated 2/1GF
That said, you don't need to be an expert bridge player to learn and play 2/1GF! The differences between 2/1GF and Standard American come from making one small tweak to the responses to opening bids of one-of-a-suit. Aside from that, 2/1GF is still based on five-card majors and natural bidding sequences you already know.
In this class, you'll learn how 2/1GF helps partnerships navigate to better game contracts, and, most importantly, helps you find and bid slam contracts with more precision and confidence.
This class demonstrates Audrey Grant's mastery of multi-level instruction in which every topic is easily approachable and understandable by novice bridge players, but there are juicy tidbits that will improve the game of very experienced players as well.
Lesson Plan:
Introduction to Two-Over-One Game Force
The Forcing 1NT Response
Rebids by Opener and Responder
The Choice Between Game and Slam
Every class and practice hand includes fascinating play and defense exercises that will improve your game at all levels.
Book included! The class fee includes a copy of the acclaimed book 2 Over 1 Game Force by Audrey Grant and Eric Rodwell
Class fee $80. Pay in cash or PayPal Me
Class size strictly limited! Reservations recommended
Class will meet at 7:00 p.m.
The Forum Room
Oneonta Congregational Church
1515 Garfield Avenue
South Pasadena CA 91030