Now open for registration!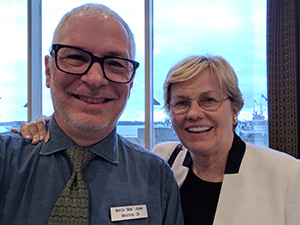 Bridge I — An Introduction
This is the first class from Audrey Grant's acclaimed Better Bridge program.
This is the starting point for a lifetime of fascination with bridge. No experience required.
Newcomers will learn the mechanics of the game through its historical predecessors: whist and auction bridge. This is not a lecture class! You'll be playing cards at the table from the beginning.
Students who have played a little bridge will enjoy this refresher and update on the fundamentals of play and Standard American bidding.
Six Wednesday evenings, starting Sept. 5, 2018
Cost is $75 plus $10 material fee for the textbook
Lesson plan:
The Basics - Historical bridge through Whist and Auction Bridge
Notrump Opening Bids and Responses
Major Suit Opening Bids and Responses
Minor Suit Opening Bids and Responses
Practice hands
Practice hands
Bridge II — Competitive Bidding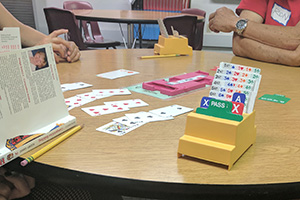 This class is your gateway to modern competitive bidding, where the conversation grows beyond "How high" and "Where" to also interfere with the opponents communication.
This class follows directly on the heels of Bridge I. The material is valuable for players with widely varying experience, especially in the context of modern club and tournament play.
This course reflects how bridge has become even more playful and exciting than the game our grandparents loved.
Six Wednesday evenings, starting October 24, 2018 (Skip Nov. 21, finish Dec. 5)
Cost is $75 plus $10 material fee for the textbook
Lesson plan:
Preemptive Opening Bids
Overcalls and Advances
Takeout Doubles and Advances
The Competitive Auction
Practice Hands
Practice Hands