I have two summer classes that focus on everything but bidding! Join us for four weeks on declarer play, and four weeks on defense.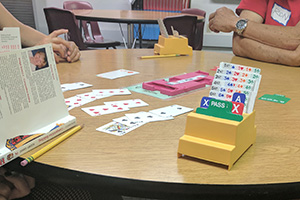 Play of the Hand
Join Mojo for four Thursday evenings at the beautiful Oneonta Congregational Church in South Pasadena for four classes focused on improving your play of the hand as declarer. Learn and practice techniques used by expert players to plan the play and win more tricks when declaring.
Topics include:
Planning the play, counting winners and losers
Eliminating losers in trump contracts, sluffing and ruffing
Finesses of all sorts
Preserving entries, ducking and hold-up plays
Identifying and defending against the dangerous opponent
Class will meet on July 12, 19, 26, and August 2 from 7:00 - 9:00 p.m.

Defense
August Thursday evenings will be dedicated to defender play.  Learn ways to work with your partner to take all your tricks, without being able to see each other's hands.
Topics include:
Opening leads against trump and notrump contracts
Second hand and third hand play
Defensive signals: attitude, count, and suit preference
Interfering with declarer's plans
Class will meet on August 9, 16, 23, and 30 from 7:00 - 9:00 p.m.
Reserve a seat soon!
Contact Mojo by email or telephone 626-755-5415 for a reservation.  Each class is strictly limited to 24 players.
Enroll in one class for $75, or join both classes for $140.
Class will meet at:
The Forum Room
Oneonta Congregational Church
1515 Garfield Avenue
South Pasadena CA 91030
Bring payment to the first class: check, cash, and credit cards accepted.
Handouts will be provided, but there is no associated textbook for these classes.