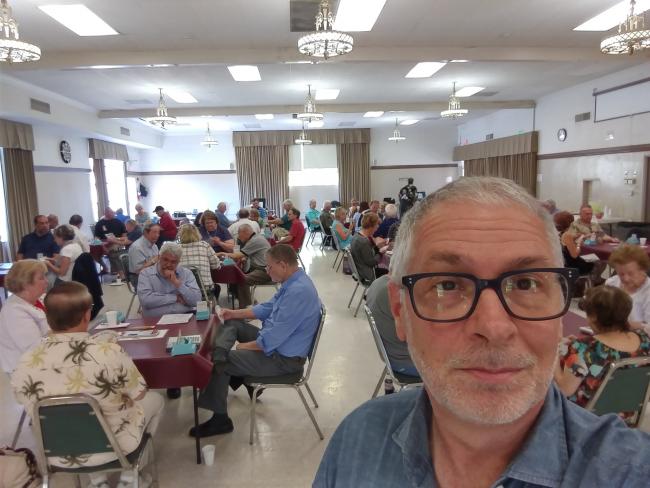 Our first "special event" at the BridgeMojo club will be a STaC (Sectional Tournament at Clubs) game on Monday, March 19.
The game will start at our regular time of 7:15 p.m., but we will play a bit longer: 21 boards instead of 14, finishing a bit before 10:00 p.m. We won't hold a postmortem that evening, so it's about the same ending time for those who like to stick around after playing.
So what is this event and why that evening?
To become a Life Master, you must have been awarded at least 75 silver points. Silver points are only awarded at sectional tournaments. (There's another way to look at this requirement: It's the ACBL's way of keeping attendance up at sectionals!)
A normal sectional tournament is run by a unit, the smallest organizational division of the ACBL. The BridgeMojo club is part of Unit 559 Pasadena - San Gabriel. Your unit membership is determined by your home zip code. Sectionals are typically held once a year over a weekend, often including a Friday. If you like to travel a little, there are sectional tournaments somewhere in Southern California on most weekends.
When there's a sectional tournament nearby, most players go to the tournament and stay away from the local duplicate club. So as a gift to the club owners for that lost income, the ACBL created the "Sectional Tournament at Clubs" event to attract players to come play more at their local clubs.
(ACBL may have gone a bit overboard with STaC games! The tournament calendar show six week-long STaC events planned for 2018 in our district. Two or three seem like enough to me.)
This particular STaC is for District 23 (Los Angeles) and District 22 (the rest of Southern California). It runs for the week of March 19 through 26. One of the interesting features of the tournament is that the clubs will be sharing the same hands for each session. For instance, all clubs playing a game on Monday evening will be playing the same boards. The STaC director in charge (Arleen Harvey for this STaC) can then combine results from different clubs and create bigger masterpoint awards for high scoring games.
If there are other non-Life Master game on Monday evening, anywhere in District 22 or 23, we'll be able to add our game to theirs for bigger point awards for high scores. I'll watch the game schedule to see.
For STaC games, the ACBL adds an extra sanction fee, and most clubs charge an extra dollar or two to cover that. To celebrate this first BridgeMojo STaC game, I'm going to pick up the extra sanction fee and keep the same card fees as our regular game.
Here's to our first silver point game at the BridgeMojo club! Good luck to you all!