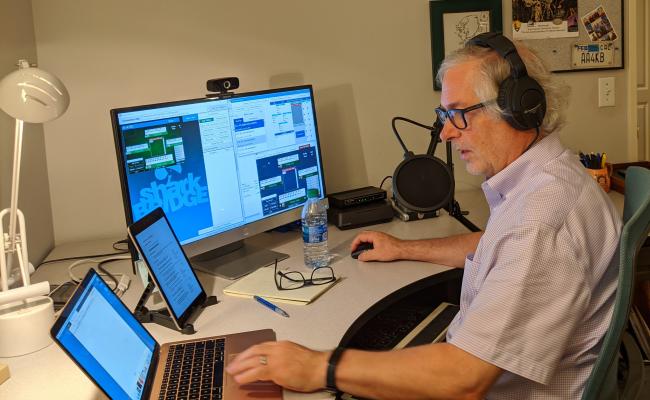 Learn to play bridge online from Mojo!
PCC Extension is offering three bridge classes from Audrey Grant's acclaimed Better Bridge curriculum this fall.
All classes are offered on Tuesday evenings at 7:15, from the comfort of your own home.
Playing and learning bridge this way, online, opens up new techniques and insight that aren't available with cards at a bridge table. Take advantage of this opportunity while you can!
To participate you will need at least one computer which you can use for a Zoom meeting session along with a web browser (Chrome, Edge, Firefox, or Safari). You need to have the ability to switch between the browser and Zoom when called for. A microphone is required, but video is optional.
A good alternative setup is to use a tablet, such as an iPad, for the Zoom portion of the class, and a computer for the web browser portion.
You should have a reliable high-speed internet connection, such as cable internet. All students should have an American Contract Bridge League (ACBL) player number. Guest memberships to ACBL are free and will be available soon. More information as they become available.
Bridge — Introduction
This is the starting place! This class is designed for people who have never played bridge. You'll learn the mechanics and vocabulary of the game, and start on the journey to becoming a competent bridge player. You'll learn the basics of card play as declarer and defender, as well as the fundamentals of Standard American bidding to reach the best contract with your partner.
Six weekly sessions, Tuesday evenings 7:15 to 9:15 p.m.
First session: Tuesday, August 25, 2020
Course fee: $75 plus $12 material fee for the course book Bridge Basics 1 - An Introduction by Audrey Grant
Bridge — Popular Conventions
These classes will give new bridge players a solid grounding in four of the most popular and most useful bidding conventions in modern bridge: Stayman, Jacoby Transfer Bids, strong artificial opening bids, and conventions to help you stay out of bad slam contracts.
Five weekly sessions, Tuesday evenings, 7:15 to 9:15 p.m.
First session: Tuesday, October 6, 2020
Course fee: $69 plus $12 material fee for the course book Bridge Basics 3 - Popular Conventions by Audrey Grant
Bridge — Competitive Bidding
This class is dynamite for club and competitive players, or anyone who just wants to do their best at bridge. You'll learn how to work with your partner to bid to the contract that gets the best score for your side, while interfering with the opponents attempting to do the same. We'll study preemptive opening bids, overcalls and advances, doubling for takeout, and the competitive auction.
Five weekly sessions, Tuesday evenings, 7:15 to 9:15 p.m.
First session: Tuesday, November 10, 2020
Course fee: $69 plus $12 material fee for the course book Bridge Basics 2 - Competitive Bidding by Audrey Grant