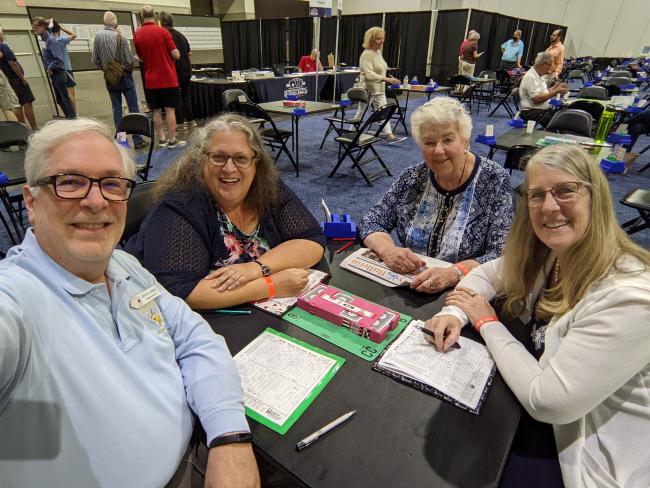 Mojo playing with a team at the summer nationals in Providence.
The best way to learn to play bridge
Of course you can learn to play a game from friends or family, but there's nothing like having a professional teacher in an entertaining class to get a great foundation in a game.
In the first class you'll learn the mechanics of playing a bridge hand, and much of the language of bridge: contract, tricks, trump, notrump, opening lead, following suit, discarding, declarer.
In the following lessons you'll learn the basics of a bidding system called Standard American 5-card Majors. You'll also learn techniques for winning more tricks as you play the hand or defend a contract.
To accompany the class you'll have the text and workbook Bridge Basics I - Introduction by Audrey Grant.
No bridge experience required, no partner required. If you've played a little bridge, this class is a great way to refresh your knowledge of the game.
Pick from either of two classes
Saturday mornings
Arcadia Bridge Center, 333 N. Santa Anita Ave., Arcadia
9:30 a.m. - 11:30 a.m.
Six classes, first class September 10, 2022
First class free, no obligation
$70 for all six classes, text book included
Pay at the end of the first class (cash, check, or credit card)
Reserve your seat with an email or call (626) 755-5415
Wednesday evenings
Arcadia High School, administered by PCC Extension
7:00 p.m. - 9:00 p.m.
Six classes, first class September 14, 2022
Class fee $75, plus $12 materials fee (for text book) payable in class
Advance registration required Click here to register online with PCC or call (626) 585-7608