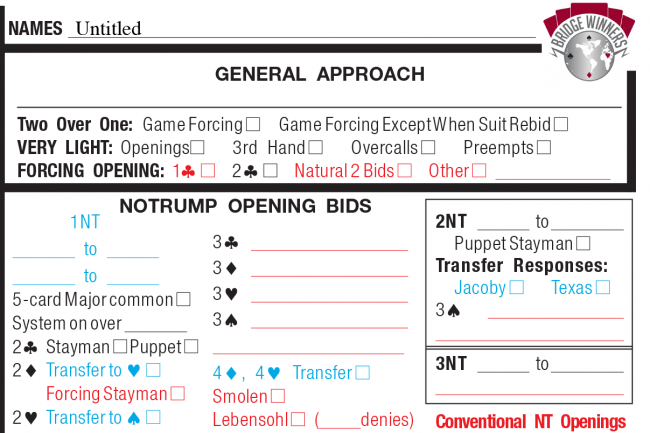 Morris Jones
Feb. 11, 2018
At the Feb. 5 BridgeMojo postmortem I gave an overview of the standard Convention Card. The object was to show the various regions of the card and how it was laid out:
The right half covers constructive bidding (our side opens)
The left half upper two-thirds cover competitive bidding (their side opens)
The left half lower portion covers defensive signals and carding
Each of the major areas are divided with titles that explain themselves fairly well, for example:
Notrump openings and responses
Major suit openings and responses
Minor suit openings and responses
Two-level openings and responses
The competitive bidding section on the left isn't quite as organized as the constructive section, but then competitive bidding is messy too. :)
For much more detail, the ACBL has an excellent collection of one-page guides on their page How to Complete Your Convention Card. Follow that link and get each PDF file to cover all of the sections. The final summary page is a valuable piece on it own.
You'll find that it's really valuable to sit down over coffee with your favorite partner and step through the card. Perhaps the most counter-intuitive part of the process is that you start on the upper right, instead of going left to right.
At the game I'll have blank standard convention cards, some ACBL Yellow Cards, and a straightforward card called the "Fat Free" card that pretty much covers everything from Bridge Basics 1 through 3. You can download and print your own copy with that link.
For a final suggestion, I use the excellent convention card editor available at the site Bridge Winners. Once you and your partner create Bridge Winners accounts, you can share and collaborate on a convention card, with both making edits to it. Bringing a nicely printed convention card to a bridge tournament is a great sign to the opponents that maybe you know what you're doing!
References