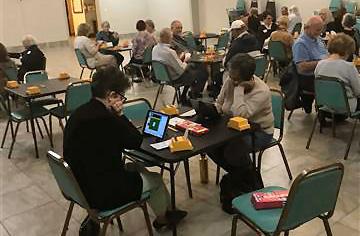 Bonnie and Angela take on the robot pair.
Photo by Roy Wilson, April 2018
Roy's article on the Unit web site here
Last week was our first trial-run for having a pair of BBO (BridgeBase Online) robots fill a half-table at the BridgeMojo game.
What's wrong with having a sit-out?
Normally when the game has a half-table, on every round there's a pair who can't play. That pair has a 15-minute break. For the BridgeMojo game, that means seven pairs in the game will play twelve boards, and the rest will play fourteen.
To compensate for the difference, the total matchpoint score for those pairs is factored before comparing it with the other pairs in the game. Their final score is multiplied by 14/12 (7/6, 1.166). (Remember your fractions?) That brings every player up to a common baseline score.